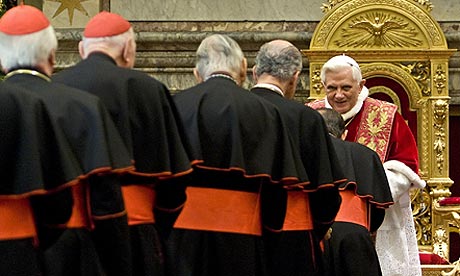 Let's start at the end: how in the name of all that's reasonable is the Catholic church still in existence? If it were a decent sized country rather than an undemocratic city state, elections or armed revolt would have put paid to it by now. Instead, through the promise of a fictional fiery doom in a hypothetical afterlife, it's maintained its iron grip on the gullible and superstitious worldwide.
I'll come clean here. I'm what can best be described as a "secular catholic". Father's side was Irish, the whiskey consumption, "for medicinal purposes", pretty high and no family event complete without someone getting stretchered out after a thump on the nose. Thanks to my mum however, I remained untainted by even a baptism. Score! What I'm saying is that they're lovely people, but brainwashed by a corrupt, and indeed perverted organisation.
So let's start at the punchline with the wonderful Daily Mash who lead with "The Vatican is possessed by lots of perverts who like to fiddle with little boys, according to a scientist". As we will see, this is closer to reality than we'd really like.
It turns out, that if you live in the UK, you're going to be contributing around £20 million of your hard earned squids on the pope's visit. Luckily there's the iPhone app for that. I mean a facebook group and petitions to sign if you'd rather that dosh went on something useful like say, cancer drugs or decent protection for our boys in Iraq. Works whichever side of the fence you're on, right? Money better spent.
In more Catholic conspiracy shit, the head of our glorious BBC, reknowned Jesuit-educated Catholic Mark Thompson is negotiating with the vatican over the pope appearing on "Thought for the day" which famously doesn't allow atheists a thought. Again, your money also being well spent.
The meat of all this though is how the church has presided over a massive child abuse scandal and has been caught red-handed attempting to cover it up: in Ireland, America, The Netherlands, Germany and Italy. The National Secular Society has pretty comprehensive coverage on this scandal.
I wonder if the author of this attempted apologia piece in the Guardian quite knew what he was letting himself in for. "It's about on a par with the rest of society". Nicely shredded in the comments. Well worth a perusal. PZ tears him a new one too.
We even have a gay sex scandal with rent boys being procured for Angelo Balducci, a Gentleman of His Holiness. Oh, I'm sure he'd be gentle all right.
I can't help but wonder if this is the priestly equivalent of "prison gay". Not supposed to touch women so you find your outlet (fnarr) with whatever's closest. A Guardian blogger wonders whether celibacy is entirely healthy.
The deliciously vitriolic Christopher Hitchens had a rather nice piece in Slate magazine under the heading "The pope's entire career has the stench of evil about it" quoting the chief exorcist of the Vatican, the Rev. Gabriele Amorth as saying "the Devil is at work inside the Vatican". Well, yes, but does he wear a dress and a cock-shaped hat?
At this point I'd like to give a shout out to the tenuously incumbent president of Spain, Zapatero, who has been doing his best to roll back the Inquisition and bring Spain kicking and screaming into a twenty-mumbleth century: contraception, abortion all the good stuff we take for granted and THEY don't want you to have. Top bloke. Deserves our support.
Of course, they can't help trying to interfere in every little part of our lives to the point where they'd rather take their ball away than actually help children in need. A catholic adoption agency would rather close than allow homosexuals to adopt. Maybe they're worried the children will catch gay and not reproduce?
Or how about condom machines in a Rome school? Apoplexy or what.
And don't get me started on condoms, AIDS and Africa. There's a genocide in the making.
On the upside, there may be a referendum in Ireland on their stupid, untenable blasphemy law.
And finally, we get to the most ludicrous of them all: Nergal of the death metal band Behemoth is facing two years in jail in Poland for defacing a bible during a performance. Right. Like that'll get past the EU courts. PZ is rather taken with this atheist look.
And I'll leave you with some lovely poetry on the subject from Digital Cuttlefishwho has a lot more where this came from!
I thought I saw an atheist
In leather, black, with spikes
Who tore apart a bible (that's
The sort of thing he likes)
A blasphemous expression, which
The Polish nation fears–
Because he tore some paper, now
A man may serve two years.
I thought I saw a holy man
Whose faith was being tested;
He had to bear the screams of all
The children he'd molested.
With such a dreadful burden, though,
Remained a ray of hope:
The law, at least, acknowledged his
Protection by the Pope.
I thought there might be justice, and
I hoped it would prevail.
The man who tore some paper
Should not have to go to jail.
The man who tore through children–
He, a heartless, soulless shell,
Should be punished by the people–
He does not believe in Hell.